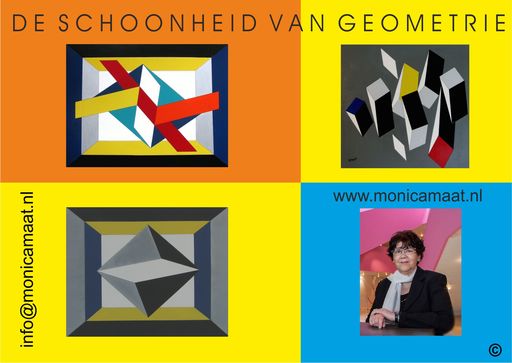 22 september 2017
Art is the disruption of reality, get things out of their way, says artist and poetess monica maat
Dear visitor,
Welcome to my site!
Below is a short summary of my work. Hopefully enough to seduce you to look further.
S u m m a r y:
It excites Monica Maat in order to manipulate the observation. Besides geometric wood panels she also makes geometric works on paper and canvas.These works do have an ornamental character and are inspired by the European Renaissance. Examples are the line structures in Italian marble floors and the optical effects of frescoes, which are found in the abbeys in Tuscany. Often Her works gives a strong visual effect. Depending on the use of colors and shapes the works shows converging or diverging effects. In the silkscreen printing studio of her brother in Amstelveen, she made with him many serigraphs and learned a lot from him to graphics. She has also been introduced by her brother to Jaap Egmond [constructivism] whit whom he shared a workshop, and the work of computer artist Peter Struycken. The work of the late Jan Schoonhoven, Jan van Duijnhoven and Gerard Caris [with particular motive the Pentagon] are of direct concern to her.
Besides geometric works, Monica also makes contemporary altars, religious installations, furniture, geometric wood panels, mathematical works and computer art.
In the meantime she has held more than 150 exhibitions, national and international. On her Dutch site you can see all her work. You can click on:
Monica Maat - Introductie en levensloop
---
Z u s am m e n f a s s u n g:
Monica Maat wird gefesselt vom Manipulieren der Wahrnehmung. Neben geometrisch bemalte Holzplatten macht sie auch geometrische Arbeiten auf Papier und Leinen. Diese Arbeiten haben, ebenso wie die Holzplatten, als Basis einen ornamentalen Charakter und sind inspiriert von der Europäischen Renaissance. Beispiele hiervon sind die Linienstrukturen in Italienischen Marmorfussböden und die optischen Wirkungen von Fresken, die man in den Abteien in der Toscana vorfindet. Oft lassen ihre Arbeiten einen starken optischen Effekt sehen. Sie sind an zahlreichen Orten im In- und Ausland unter dem Titel: "Hin-durchsehen", "manipulierbar wahrnehmen", ausgestellt worden. Abhängig vom Gebrauch von Farben und Formen zeigen die Arbeiten konvergierende oder divergierende Effekte.

Im Siebdruckatelier Ihres Bruders in Amstelveen hat sie zusammen mit ihm viele Siebdrucke gemacht und auf dem Gebiet der Grafik viel von ihm gelernt. Auch durch ihren Bruder hat sie mit Jaap Egmond [Konstruktivismus], mit dem er sich ein Atlier teilte, und mit den Arbeiten vom Computerkünstler Peter Struycken, Bekanntschaft gemacht. Auch die Arbeiten vom verstorbenen Jan Schoonhoven, von Jan van Duijnhoven und Gerard Caris [mit vor allem als Leitmotiv das Fünfeck/Pentagon] sind für sie von unmittelbarer Bedeutung gewesen.